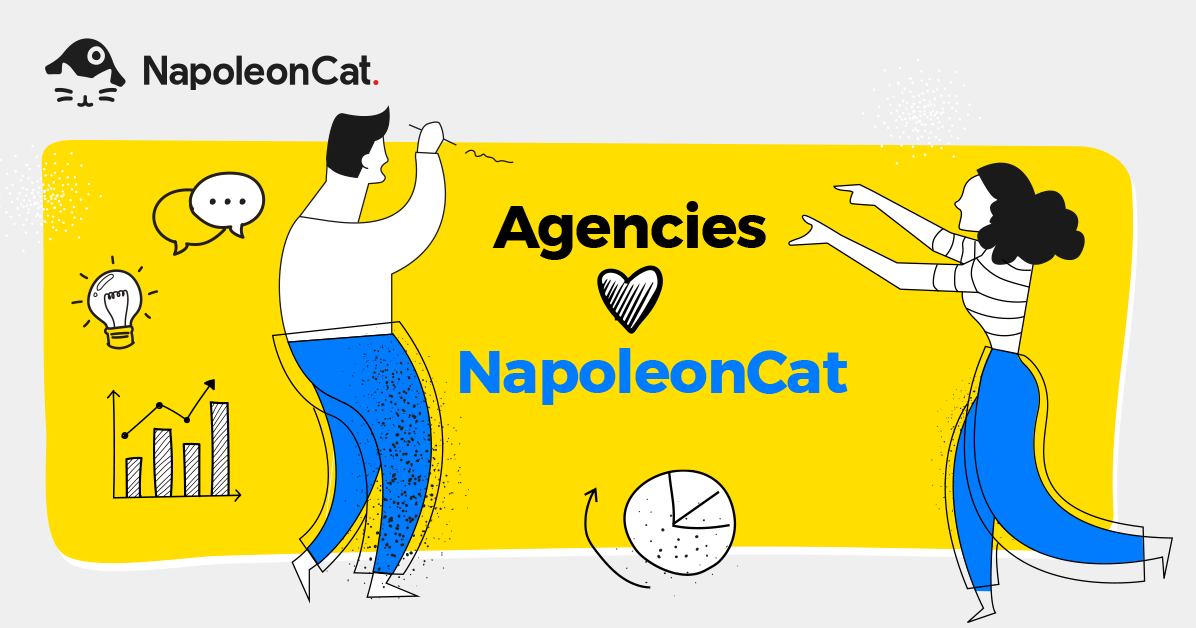 Social Media Management Tools for Agencies – NapoleonCat NapoleonCat
Deliver exceptional customer service for your clients and their customers – with one social media platform for all your client accounts and all your agency needs. (And no bank-breaking fees.)
Instantly tackle what's important
Help moderator teams stay on top of their community management game, even with high volumes of messages and comments. Moderate conversations on Facebook, Messenger, Instagram, LinkedIn, TikTok, and Google My Business – all in one dashboard.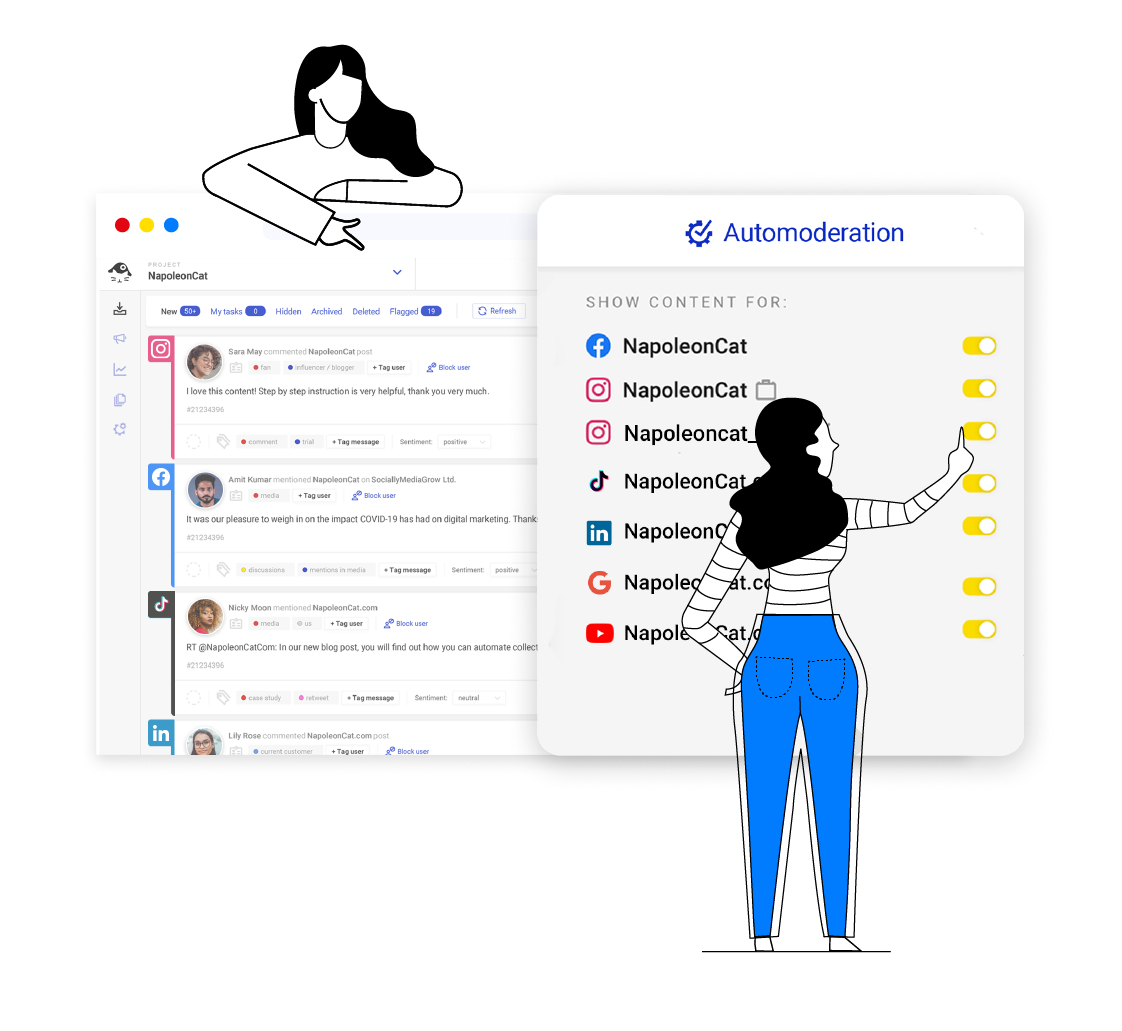 Explore Social Inbox features Engage with customers on a schedule
Plan ahead and publish your clients' Facebook posts, Instagram Reels, and even TikToks in a visual calendar, together with team tasks, approval workflows, and feedback sharing.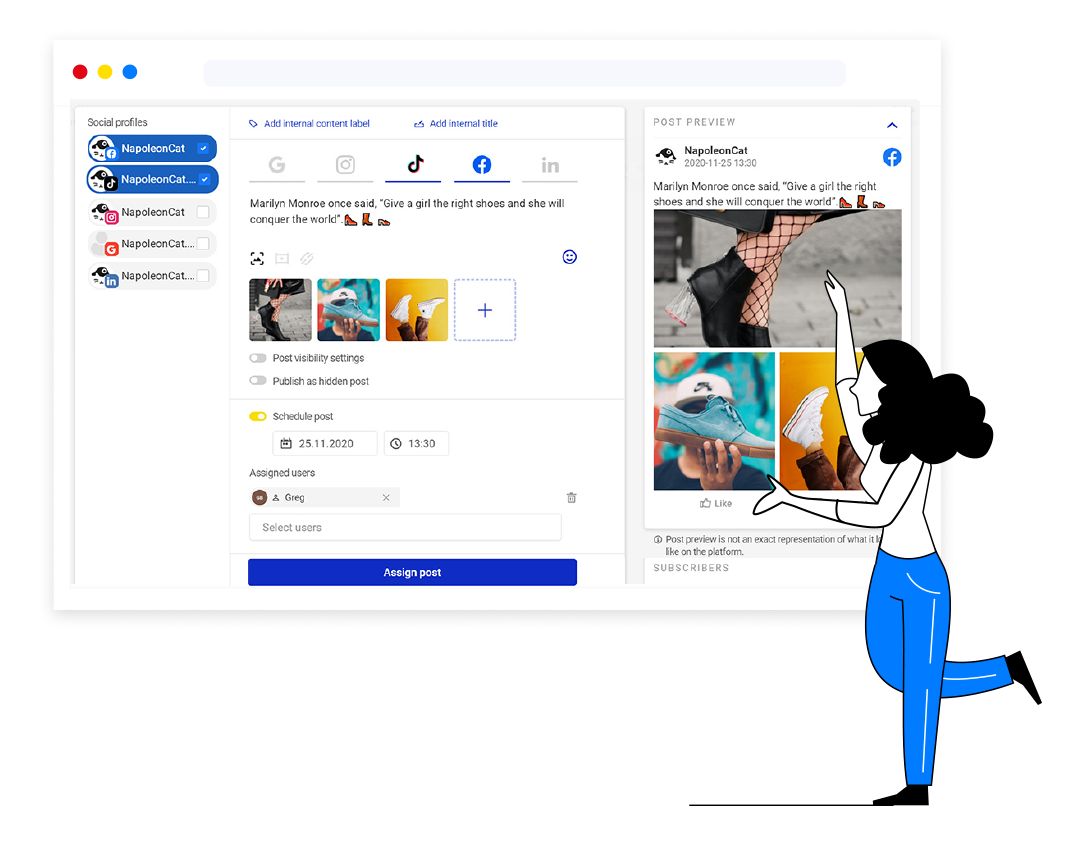 Post now or schedule for later Automate when needed
Automatically reply to frequently asked questions, hide comments with links, or remove spam – from your organic posts and social media ads.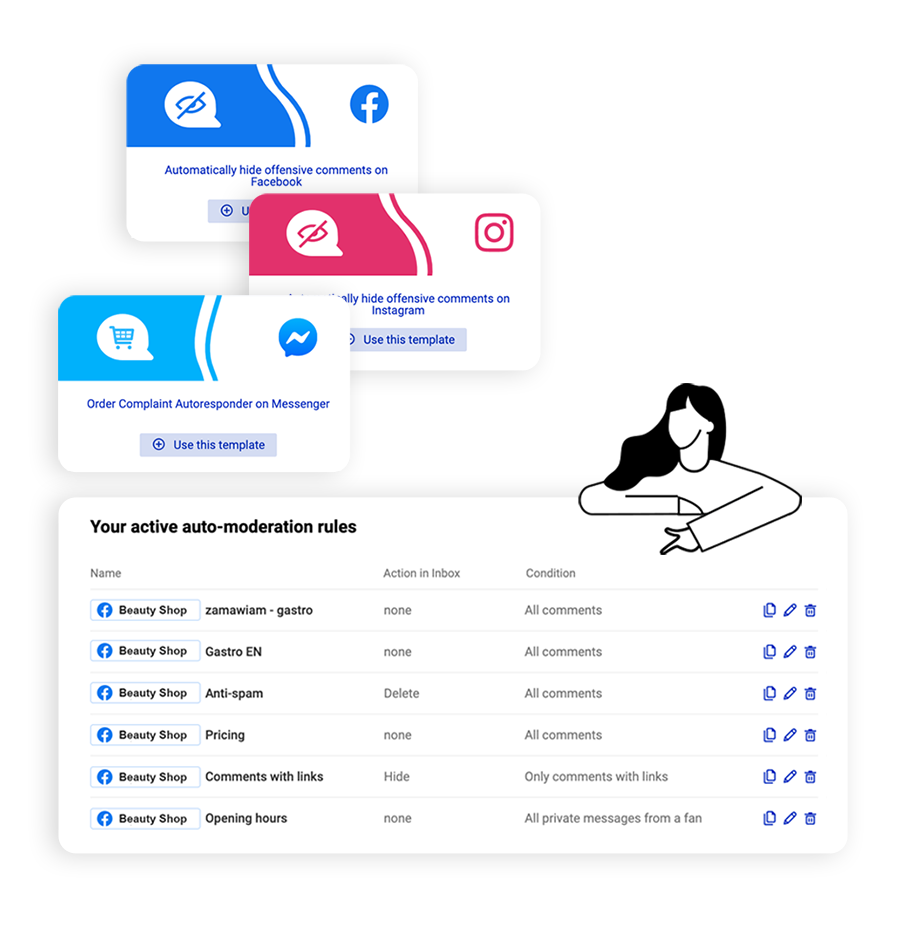 Automate repetitive comments Get to know your clients' customers
Create user profiles for your clients' followers and browse conversation history, add notes, and assign sentiment. To always keep brand communication on point, no matter who's responding.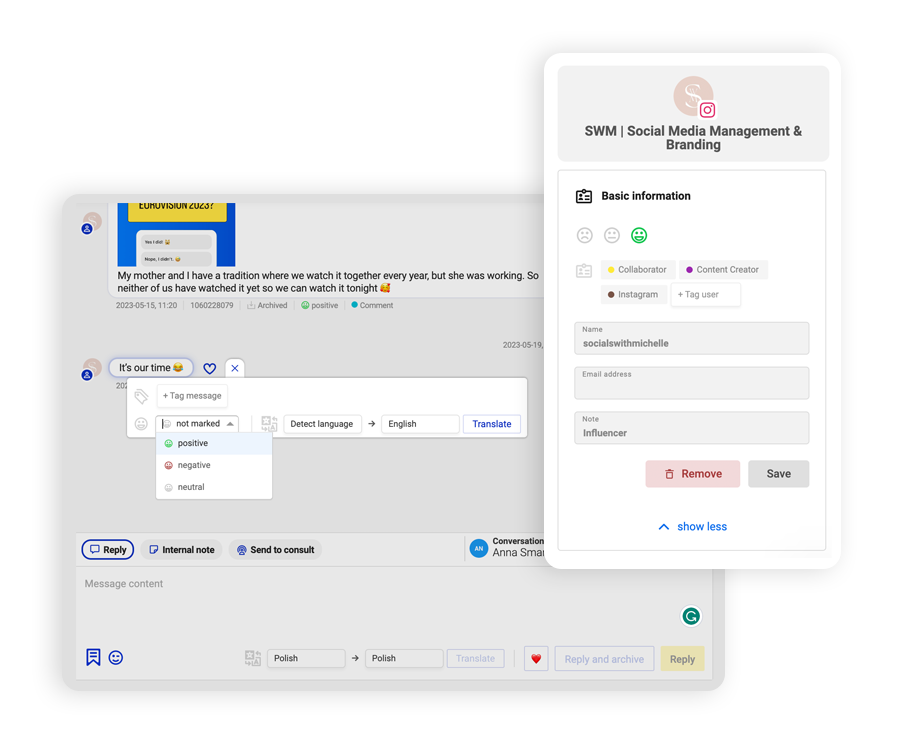 Check out Social CRM's power … and their competitors
Analyze your clients' competitors on social media and include the insights in your weekly, monthly or quarterly reports to compare performance and update your benchmarks.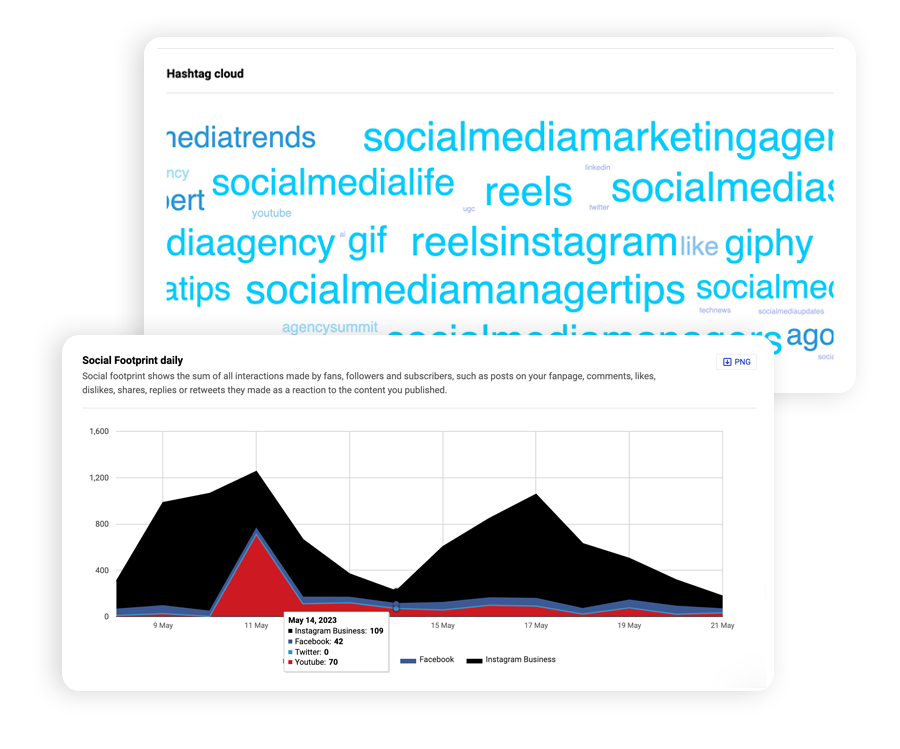 Analyze and generate auto reports
Infinitely better internal workflows
Make space for all your teams and clients
Organize your team's work into workspaces and say goodbye to the infamous agency chaos. Define separate sets of social media accounts with different user groups, content creation workflows, auto-moderation rules, and more.
Manage your team's tasks 
Assign comment threads to respond to and calendar content to work on to individual team members. And always know who's working on what to eliminate bottlenecks and prevent duplicate work.
Track and reward their progress
Automatically generate moderation reports for the whole team and individual members. Track answered tickets and response times, and identify (and appreciate) your best performers.
Wildly improved client communication
Work with clients, influencers, and freelancers in one place
With just one tool, you can create multiple efficient workflows to communicate, assign tasks, exchange feedback or consult tickets with your client and other collaborators. Without having to constantly go back and forth on email, Slack, or phone.
Never worry about password security
Forget about passing around social media passwords between your team, clients, and contractors. Instead, create workspaces with individual access levels and activity logs so everyone knows what's in the works.
Demonstrate results with a few clicks
Schedule social media reports in NapoleonCat and automatically send them to the right people at the right time, with the right metrics. Add your client's branding for that extra good impression.
Work the way that works best for you and your clients
You can collaborate on your client's company account or give viewing access to a dedicated workspace in your agency account. You know, whatever works.
Here's how Workspaces
actually work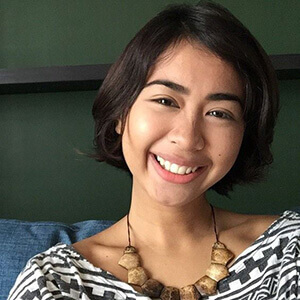 "The customer service team is really happy that it is so easy to navigate, easy to find and respond to comments, and you can easily hide comments when necessary."
Kathleen Belleza
Digital and CRM expert,
VPA Australia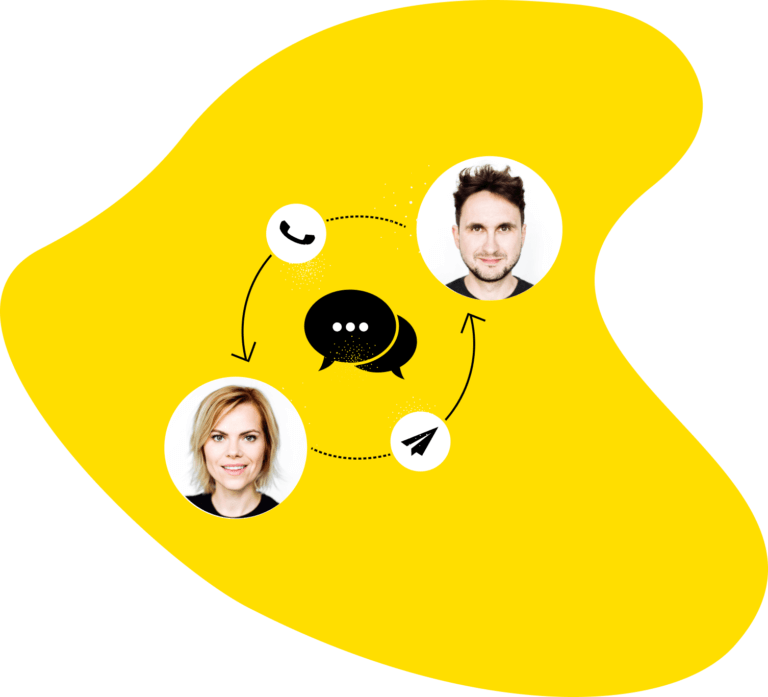 Need support?
Even if you're the ones supporting your clients and their customers, you should get the support you need, too. And we're here for it – to help you deal with tech issues and recommend ways to use our platform to get the most out of your agency subscription.
With NapoleonCat, you can bring much more value to your clients while giving your team more time
and flexibility in their day-to-day. And you can start today, for free.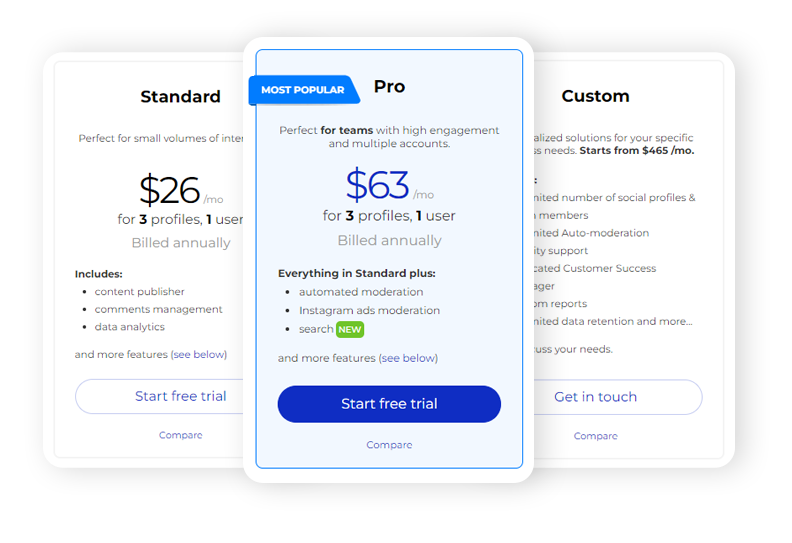 Sign up for a
14-day free trial
0) { videos.forEach(video => { const dataSrc = video.getAttribute('data-src'); if (dataSrc) { video.src = dataSrc; } }); } } document.addEventListener("DOMContentLoaded", videoLazyLoad); ]]>

Source